How customer queries transform into answerable tickets for your customer support team
Receiving queries
Email inboxes, live chat, forms and facebook messenger can all be directed to one universal inbox: Conversational Inbox. You can automate ticket creation in the Service Hub so that any of the above automatically generate a support ticket to be dealt with by your Customer Support team, with the benefit of having any related contact & company properties associated.
Responding to email tickets
All customer communication related to each of the support tickets should be managed solely inside of the Service Hub. Similarly to the Contact pages in HubSpot, the Service Hub is your unique place to record notes against each ticket, manage ticket statuses, create tasks and use other unique HubSpot functionality to manage customer issues effectively.
Communicating outside of Service Hub with each customer who has submitted a ticket is likely to result in double-ups in communication and may cause you to lose notes relating to each ticket. Retaining control over customer tickets inside of Service Hub also allows you to tag other team members in comments and create tasks for them.
You can view the support tickets as either a Table or a Board view (see examples below). Use Table for a vertical listing of all of the tickets, or Board for a 'swim lane' type view which makes it visually easier to see the status of each ticket.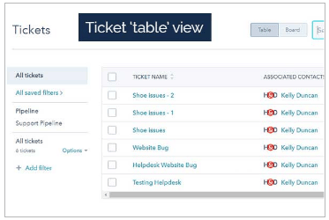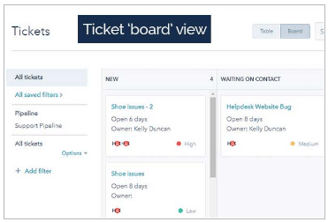 Example ticket detail view: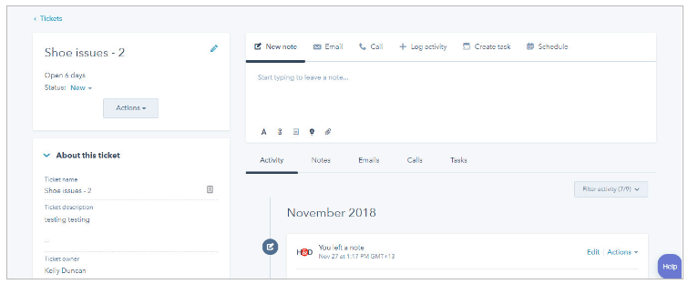 Responding to chatbot tickets
Customers and website visitors are able to submit support tickets via the chatbot. Once a support query is submitted via the chatbot it is accessible inside of the Service Hub, under the Tickets option and in the conversation Inbox. All chatbot support queries are to be treated the same as any other email tickets and managed inside of the Service Hub.
Further Resources
HubSpot: Service Hub Overview
HubSpot: Manage conversation routing
HubSpot: A guide to Conversations Inbox